PAST EVENTS
22nd June - 5th July 2014 - ISSOC 2014, ECPR INTENSIVE SUMMER SCHOOL ON SERIOUS AND ORGANISED CRIME
See video https://www.youtube.com/watch?v=stqzmtjQ4yc
12-13 June 2014 - ReSHAPE 2nd Annual Workshop NON-STATE ACTORS AND EMERGENCY POLICIES ASSESSING THE IMPACT OF NGOS AND THE MEDIA, Aula B, Department of Political and Social Sciences
May 30, 2014- Mare nostrum: Symposium on the Multiculturalism of the Mediterranean Region, Organized by the University of Catania, Auburn University, and University of Paris X, Nanterre
9 maggio 2014 - Festa dell'Europa 2104, Europa, Cittadini e Frontiere, Relatori:Giampiero Gramaglia, Francesca Longo, Azzurra Meringolo, Pippo Vecchio
14 - 17April 2014 - The Seminar & Simulation on "EU NEGOTIATION: METHODS and PRATICE"
20-21 March 2014 - EU's FIGHT AGAINST TRANSNATIONAL CRIME, The University of Catania and Universitè de Lieges Twin Seminars on "European and Global Politics" - Seminar One
12, 18, 26, 31 marzo2014 - Orientamento al Lavoro, Ciclo di Seminari a cura di Davide Arcidiacono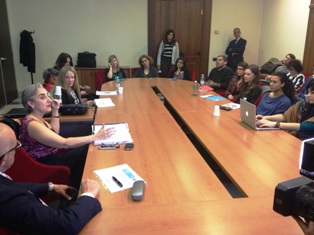 March 17, 2014, 12:00 – 13:30 – (Sala Riunioni, 1st Floor)- Meet the expert US-EU Trade: Transatlantic Trade and Investment Negotiations, Colombia A. Barrosse, U.S. Consul General, Naples (Opening speech), Kate Kalutkiewicz, Director for European Affairs at U.S. Trade Representative. (Visit the Photo Gallery)
10, 11, 12 Febbraio 2014 - Aula B ore 16
Seminari in collaborazione con COSMICA, Dalla Storia alla Cronaca. Le transizioni nel mondo arabo contemporaneo. Tunisia. Egitto. Libia. Daniela Melfa, Alessia Melcangi, Federico Cresti
ICE-BREAKING & INFORMATION DAY 5 November 2013 – 10.00 a.m. / 01.00 p.m.click to view the programme
Students and professors of GLOPEM at the Intensive Programme on "Governance and Security in Europe and the Mediterranean" (GOSEM), University of Crete, 1st-14th September 2013. GLOPEM was IP partner institution www.ip-gosem.com
Lia Caponetti, the first graduate of the Double Degree Programme
"UC (GLOPEM) - Ulg (Master en Sciences Politiques)". On 30 August, she defended the research dissertation on European Union's WMD Non-proliferation policy: the competence-sharing between EU institutions
The ReSHAPE Annual Workshop on EU Emergency Policies - June 6 and 7.
May 30, 12.00 a.m.- 01.30 p.m..(Aula B, 2nd floor)
Meet the expert: Iolanda Genovese, EU Aid Volunteer - EUROSHA Pilot Project (DG ECHO)
EU Aid Volunteers: The new global Humanitarian Initiative to meet the challenges of Disaster Risk Reduction. Experiences from European Open-source Humanitarian Aid (EUROSHA) Pilot Project
May 29, 12.00 a.m.- 01.00 p.m..(Seminar Room 1st floor)
Professor Yves Schemeil, University of Grenoble
Faculty Seminar, IOs attitudes towards interorganizational collaboration
May 15, 2013, 03.00 p.m.- 04.30 p.m..(Seminar Room 1st floor)
Videoconference L'università per l'Europa: verso l'unione politica
A talk with Carlo Casini (MEP), Chair of the Constitutional Affairs Committee of the European Parliament
May 14, 2013, 12.00 a.m.- 01.00 p.m..(Seminar Room 1st floor)
Professor Thomas Weiler, University of Bonn
Faculty Seminar, The role of Germany at the EU and UN
May 2, 2013, 12,00 a.m.-02,00 p.m.(Seminar Room 1st floor)
Professor Joseph Grieco, Duke University
Lecture - Interstate Military Conflicts

May 3, 2013, 11,00 a.m.-01,00 p.m.(Seminar Room 1st floor)
Professor Joseph Grieco, Duke University
Faculty Seminar - Interstate Crises and Domestic Political Capital: Presidential Handling of Militarized Disputes and Domestic Legislative Success
Africa Appunti di viaggio. Riflessioni su Politica Economia e Società
29 aprile ore 17, 2013 (Aula Magna) La Tunisia vista dalla "porta del deserto"
30 aprile ore 11 (Sala riunioni 1° piano) Blue Nile la guerra senza charme
20 maggio ore 17 (Aula B) Da Nouakchott a Dakar: storia ufficiale e ricerca
April 11-12 & May 9-10, 2013
The Common Seminars on "European and Global Politics" for the Double Degree Programme students of the University of Liege and the University of Catania (ReShape Project) click
March 25 - 28, 2013
Seminar & Simulation "EU Negotiation: methods and practice"
Jean Monnet Chair Ad Personam click
March 14, 2013, 12.00 – 14.00 - Aula Magna
Round Table Security and Migration in the Mediterranean: problems, actors and cooperation processes after Spring 2011
Teresa Consoli, Sociology of Law - Daniela Irrera, International Relations - Francesca Longo, EU Politics - Stefania Panebianco, Mediterranean Politics -Luca Ruggero, Economic and Political Geography


Monday 19 November 2012, 11.00 a.m. - Aula Riunioni, 1st floor.
Video Conference Obama's foreign policy and the challenges of the global civil society
James G. McGann, Senior Fellow of the Foreign Policy Research Institute (Philadelphia)
and Director of the Think Tanks and Foreign Policy Program
In collaboration with the US General Consulate, Naples.
September 27, and 28, 2012, 10,30 a.m.-01,00 p.m. - Sala Riunione - 2nd Floor
Colloquium Philosophy & Global Affairs
Prof. John Tasioulas, University College London,Towards a Philosophy of Human Rights
Prof. Seumas Miller, Centre for Applied Philosophy and Public Ethics, Human Rights and Killing in Self-Defense: The Right to Life and How to 'Lose' it
Director: Luigi Caranti
May 16, 2012, 11:00 – 13:00 a.m – Aula B
Meet the expert - Green Diplomacy in action. the role of the unesco designated areas in fostering trans-boundary cooperation
Giorgio ANDRIAN - Consorzio Universitario per la Ricerca Socio Economica e per l'Ambiente - Visiting Professor, University of Novi Sad, Serbia
Chair: Daniela Irrera
March 14, 2012, 12:00 a.m. – 01:00 p.m – Aula Magna
Meet the expert - METHODS OF NEGOTIATION AND DECISION-MAKING
Aurélien COLSON - Professeur associé de science politique, ESSEC, Directeur de l'Institut de recherche et d'enseignement sur la négociation (ESSEC IRENE Paris & Singapour)
Chair: Fulvio Attinà
March 6, 2012 - 11:00 – 13:00 a.m – Aula B
Meet the expert -WORKING FOR INTERNATIONAL HUMANITARIAN AND DEVELOPMENT ORGANIZATIONS
Maria COPANI, External Relations Specialist, United Nations Children's Fund
Chair: Fulvio Attinà
January 27, 2012, 11:00 – 13:00 a.m – Aula B
Meet the expert -PRACTICES OF HUMANITARIAN AID AND DEVELOPMENT SEEN FROM BELOW
Rosario SAPIENZA, Hub Sicilia
Chair: Daniela Irrera
December 6, 2011, 11:00 a.m. - 01:00 p.m. - Aula Magna
Faculty Round Table - EURO-MEDITERRANEAN RELATIONS: CHANGE AND UNCERTAINTIES
Stefania Panebianco - THE EU ROLE
Daniela Melfa - THE ARAB ELITES ROLE
Daniela Irrera - THE CIVIL SOCIETY ROLE
Luca Ruggiero -THE MEDITERRANEAN AND THE GLOBAL MARITIME TRAFFIC LANES
Chair: Fulvio Attinà
Workshop Series on "THE EU'S ORGANISED CRIME POLICY FROM STOCKHOLM TO LISBON"
The Workshop programme aims at promoting a broad discussion about the EU approach towards organised crime in a multidisciplinary perspective. It is coordinated by a transnational academic board including Francesca Longo and Daniela Irrera, University of Catania, Felia Allum and Panos Kostakos, University of Bath, Bill Tupman, University of Exeter.
Workshop on "The new JHA policy process in the Lisbon Treaties", directed by Francesca Longo and Daniela Irrera, 29-20 October 2010.
Workshop on "Legitimacy and protection of Human Right in the JHA", directed by Bill Tupman, 10-11 December 2010
Workshop on "Fighting cross-border crime in the EU: theory, practice and political implications" directed by Felia Allum and Panos Kostakos, 25-26 March 2011
General Conference, July 2011.
March 31, 2011 - 12:00 a.m. - 02:00 pm
Lecture on "The European External Action Service"
Cosimo RISI Min. Plen. MAE, Ministry of Foreign Affairs, Rome
November 3, 2011 -- h. 10:30 a.m - Aula Magna, Via V. Emanuele, 49
Round Table "THE EU AND ITS NEIGHBOURS: NEW SCENARIOS, NEW INSTRUMENTS?"
Fulvio Attinà (Università di Catania), Pinar Bilgin (Bilkent University), Sandra Lavenex, (Lucerne University), Stefania Panebianco (Università di Catania).
Chair: Knud Erik Joergensen (Aarhus University).